FAQ
Custom Orders
What information should I include in my initial email?
To make the process more efficient, please include as many details as you can in your initial email, such as:
What: The items you would like to order (for example, signage, cake topper, ornament)

When: Your preferred pickup date

Quantity: The quantity you need for each item

Colour: We can do any colour! The first colour is included in our price but there will be additional costs for any extra colours

Style: Were you inspired by another piece? Send us inspiration photo(s)! 
What determines the price?
We look at a few factors when we quote you: dimensions, the intricacy of the design, and the material. We'll work with you to suggest the best option that will fit your budget.
What materials do you offer?
Wood (we predominantly use Baltic Birch Plywood), acrylic, mirror acrylic, and cardboard.
What colours do you offer?
We offer all colours in the spectrum! 
If you have a specific colour in mind, send us an email and we can try to match it as close as possible.

How big can you make the items?
Wood: Unlimited size, we've laser cut things as wide as 9 feet and as tiny as 1/2 inches.

Acrylic: The board size is unlimited, however we can only do a seamless one-piece as up to 29" x 17" 

Mirror acrylic: 24" x 12" 
What's the turnaround time?
Depends on the project. For most single orders, we can get them done within 3 days. Send us an email if you need it done much sooner and we'll let you know if we can squeeze you in. We've delivered projects in under 6 hours. For a larger quantity of orders, please give us at least 3 weeks notice. 
Where can I pick up my order?
You can either pick up your order from South Burnaby near Metrotown, or Mount Pleasant area. 
Is there a minimum order?
There is no minimum amount, but there is a minimum of $50 for every custom order. If you have a tight budget, look over in our big selection of pre-made designs that you can customize!  
Can we provide you with the design? If so, what format?
Yes, please! You can provide us with your design as long as it's in a vector format (.eps, .ai, .pdf). Images containing copyrighted material, profanity or obscene gestures will be rejected.
Payment
What payment methods do you accept?
Our preferred methods of payment are e-transfer, cash, or cheques. However, we do accept Visa cards too.
How much of a downpayment do you need?
A 40% deposit is required before we proceed.
Pick Up / Delivery
How much do you charge for delivery?
Please see the map below.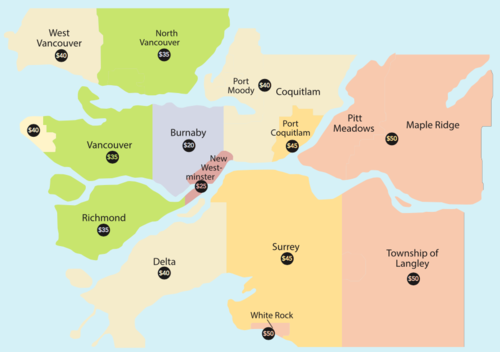 Can I pick up the items to save money?
Yes, send us an email and we'll coordinate a time with you! We're located in South Burnaby, close to Central Park / Metrotown.
Set Up
How do I attach the signage to the backdrop I rented?
We provide fishing line with every signage purchase and rental. Just tie it around the highest point of your signage and hang the other end onto the photo wall. If you want to permanently attach it to a smooth wall, please do let us know and we'll prepare the signage that way.
Rental
How many days can I rent the items for?
5 days! Let us know if you need it longer. However, there won't be any discounts if you return the items earlier than 5 days.
Can I customize it to a different colour or font?
Not for rental. However, if you want to personalize or customize it in any way, email us and we'll make you a new one!